Helping you with all your ATM needs!





WRG® Genesis

The WRG® Genesis is the workhorse of the industry. The Genesis is not only very reliable but very affordable. If you are looking for a basic ATM that dispenses money quickly and easily then the Genesis is for you.  The Genesis provides numerous options to customize the machine to your operating environment. With ATM Distribution, you pay only for what you actually need and not for unprofitable features that can only cause maintenance or usability issues. The Genesis delivers an outstanding value, streamlined operations, low maintenance costs and a long useful life.

Machines are shipped directly from the factory already programmed.

The Genesis ® offers outstanding reliability, quality and convenience at an affordable price. Your business will benefit from this extremely low-maintenance ATM.

Standard Features:

PCI & Interac Approved PED

Puloon 1000- note Cash Dispenser

UL291 business-hours rated safe (full size door)

Electronic Journal 2000 transaction memory

Optional Features:

De La Rue 2,000-note Cash Dispenser

De La Rue 1,000-note Mini Mech Cash Dispenser

Dimensions:

Height: 50 " (1270 mm without sign)

Depth: 22 " (558.80 mm) on floor base

25" (635mm) to front impact resistant, injection molded doors

Weight: 250 lbs. (113.6 kgs)

Other Specifications:

Power Requirement: Dedicated, standard ground outlet  (120 VAC, 5A, 60Hz)

Temperature Rating: 40-100 degrees F (4 to 37 degrees C)

Relative Humidity: 20-80 %, non-condensing

























Appointed distributor for WRG Services Inc. a registered ISO of Palm Desert Bank.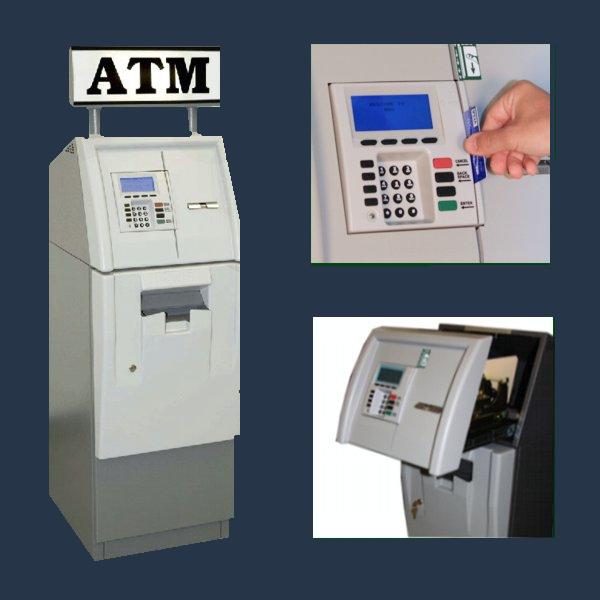 call 1-888-826-3757