Helping you with all your ATM needs!






Hyosung Monimax 5000CE
includes built-in TCP/IP with Secure Socket Layers (SSL) for extra security while connected to the Internet. This new connectivity feature provides a direct connection without additional boxes, adaptors or converters. The result?
A more affordable product that saves both time and money.

Standard Features:

UL291 Business Hour Cabinet

Optional Features:

Cash Tray Illumination Kit

ATM Identification Stickers

Dimensions:

Other Specifications:

Power Requirement: Dedicated, standard ground outlet

         40-100 degrees F (4 to 32 degrees C)

ground outlet (120 VAC, 5A, 60Hz)

         20-80 %, non-condensing





call 1-888-826-3757
Copyright 2010 ATM Distribution: ATM Machines For Sale. All Rights Reserved.

Contact Us:

Name

Email

Phone

Comments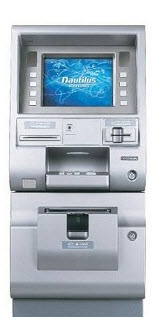 ATM Bank Machines:
Hyosung CE Series